NI Absynth Instrument and Additional Sounds
Displaying 1 to 7 (of 7 products)

Absynth 3
Widely acclaimed as the most exciting and fascinating software synthesizer of all time, ABSYNTH 3 is now more comprehensive and versatile than ever before. The third generation of this award-winning synthesizer is now being shipped. Version 3 literally enters the third dimension: sophisticated surround sound features allow the spatial manipulation of the sound – with precise control using the...

Absynth 3 Tutorial DVD
Native Instruments Absynth 3 Tutorial DVD. DVD tutorial covering all aspects of ABSYNTH 3 - from the basics to in-depth programming. Includes presets and artist interviews ABSYNTH 3 is put under the microscope. This new tutorial DVD is essentially an interactive workshop explaining how to use this unique instrument. Native Instruments' very own product specialist hosts a detailed, step-by-step...

ABSYNTH 4
Native Instruments ABSYNTH 4 [VSTi / DXi / RTAS / UB | PC/MAC] A legend in its own time, ABSYNTH returns in a more powerful, creative and intuitive guise than ever before. Renowned for its organic, evolving sounds that range from the simple yet sublime to outlandish sonic textures, ABSYNTH 4 continues to build on its exceptional reputation. The addition of new features combined with an optimized workflow...

ABSYNTH 5
Native Instruments ABSYNTH 5 [VSTi] ABSYNTH 5 is an exceptional synthesizer with unique sonic potential. Its speciality is a limitless spectrum of unusual, evolving sounds created using the powerful, hybrid synthesis architecture and sophisticated modulation and effect system - resulting in sounds far removed from the everyday. What's more ABSYNTH 5 is not just a synthesizer, but a powerful effect...

Absynth Sounds [biolabs] vol.1-3
Camel Audio Absynth Sounds [biolabs] vol.1-3 An innovative collection of 386 Absynth 3 presets [biolabs] Absynth Sounds is a collection of nearly 400 presets for Absynth which includes a 300 MB specially-created sample library. The sounds have been expertly programmed by Biomechanoid, a well respected sound designer and one of the principle authors of the Absynth factory sounds, as well as Cameleon 5000.

Dark Sirens - Expansion Pack for NI Absynth
Musicrow Dark Sirens For NI Absynth [Expansion pack] The Sirens have returned, and they want to take you on a dark journey… Following on from the success of 'The Sirens' soundset for NI Absynth, Musicrow return with the 'Dark Sirens', a new vocal based expansion for NI Absynth. 'Dark Sirens' will give you access to haunting textures, and sinister, twisted...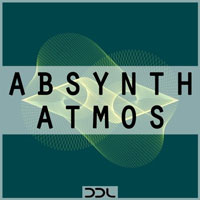 Deep Data Loops Absynth Atmos
Absynth 5 required! Pack Summary DDL shines with 64 long evolving atmosphere sounds for Native Instruments Absynth, all drastically deformable by 4 macro controllers. You'll get anything usable for Ambient productions from abstract, harmonic, dark, peaceful, disturbing, surround & atonal type of sounds. You can also use the especially for this collection handcrafted source Wav files for your...